SAVE TIME
One of the greatest advantages to you is simultaneous construction. While your grading and foundation crews are working, so are we.
At Pacific Wall Systems, performance is not limited to weather, daylight, city noise ordinances, vandalism, or other on-site challenges. Therefore, you can depend on a seamless construction schedule without the wasted time and material.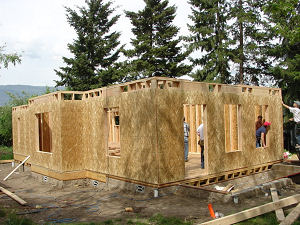 SAVE MONEY
All components are closely reviewed using precise computer software before assembly, which prevents the need for onsite remodel or repair. This will reduce your construction costs by limiting labor costs, onsite waste, interest expense and liability exposure.
In addition, assembling the frame components in a controlled environment allows PWS to deliver a superior product at a competitive price.
Proven Savings with Panels
STICK FRAME
WALL PANELS
DIFFERENCE
Above figures based on a 2,600 square foot home.
Courtesy of WTCA, Feb '07 of Structural Building Components magazine.
total man hours to construct
401
148
253
total man hour cost
$8,020
$3,460
$4,560
total board feet lumber
20,400
15,100
5,300
total cost of lumber
$12,928
$14,457
$1,529
total lumber & panel scrap
17 yds.
4 yds.
13 yds.
total scrap cost
$425
$100
$325
total framing cost
$21,373
$18,017
$3,356