Z4 Tie-Down System
The Z4 Tie-Down System provides the building industry with a simple, efficient, quality tie-down system with unparalleled customer service. Z4 is used in multi-story buildings to transfer uplift tension forces that result from earthquake and wind loading, to the foundation. The CNX Cinch Nut allows for easy, fast, and dependable one-step installation. Z4 Tie-Down Runs are engineered for maximum material and labor efficiency to provide the most economical system in the industry.
The CNX Cinch Nut is a shrinkage take-up device that is evaluated under the IBC and the City of Los Angeles building codes and is accepted by building departments nation-wide. The CNX ability to perpetually "travel" down the length of the threaded rod allows it to compensate for natural shrinkage and settlement that occurs in wood buildings, therefore keeping connections of Tie-Down Runs tight to the floor framing members for the life of the building.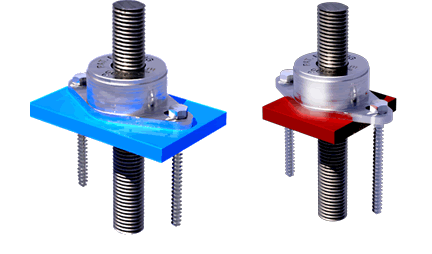 The Z4 Tie-Down System with the CNX Cinch Nut is designed to limit story drifts of multi-story buildings and eliminate additional structural damage caused by loose connections in the floor framing. The system was designed following the Northridge Earthquake when the effects of wood shrinkage, building settlement, and other building deformation were shown to be factors contributing to damage.
The Z4 design was the first in the industry to provide a continuous load path for uplift that perpetually adjusts its connections to the floor system as the building deforms. The Z4 Tie-Down System is engineered, tested, and code evaluated to perform. It continues to be an innovative leader in the multi-story building industry.
MiTek® Pro Series™ Screw Anchors
SACH Screw Anchors
Reference Series: THD series
Screw anchor for temporary or permanent attachment to uncracked and cracked concrete.
Features:
• No special drill bit required; install using standard-sized ANSI tolerance drill bits
• Code evaluated to IBC/IRC in accordance with ICC-ES AC193 and ACI 355.2 for cracked and uncracked concrete
• Approved for use in wind and seismic applications
• Fully removable for temporary anchoring or applications where fixtures may need to be moved (e.g. formwork, bracing)
• Suitable for closer edge distance or tight spacing applications
Materials: Carbon Steel
Finish: High Corrosion Resistance
Code Reports: View Code Report Table
Installation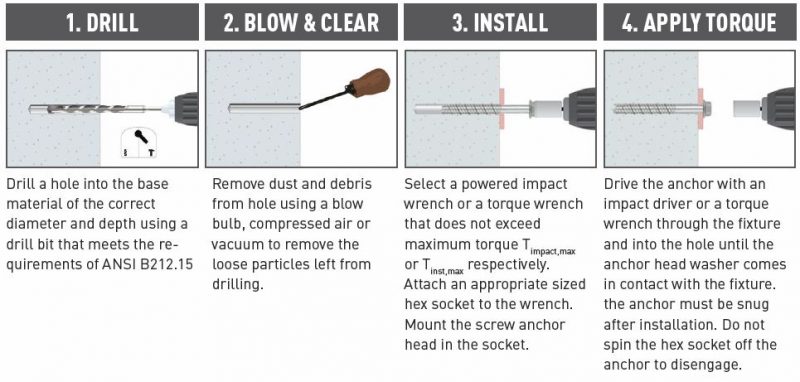 The MiTek® Specifier™
The MiTek® Specifier™ Free Download
Designed for Engineers and Estimators, MiTek® Specifier™ software simplifies access to information on thousands of structural connectors through an intuitive point and click interface.